1. Making Patterns
Resin or aluminum patterns will be necessary for green sand casting process. Without patterns, the production for castings will be impossible. Sometimes, wooden patterns could be used for small quantity production, but for batch production, resin or aluminum patterns will be needed.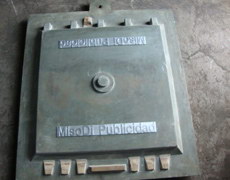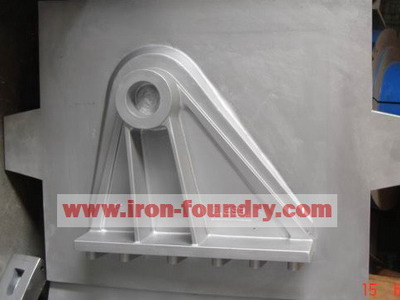 2. Molding Process
There are three types of molding methods by green sand, one is manual molding, second is by molding machine, third is by automatic molding equipment.
The following is manual molding workshop, which is very traditional molding method, but it is still existed because of its advantages, because it can produce large castings.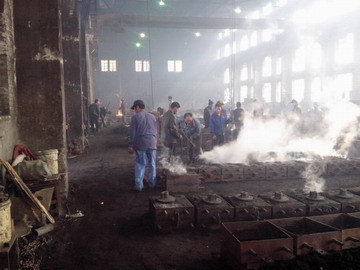 The following is showing the molding machine, which could save manpower, and produce better quality castings, however, because of the size limitation of sand boxes, it can not produce large castings.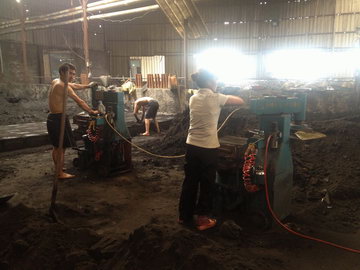 3. Iron Melting and Pouring
Melting could be done by the cupola (coal as the fuel), or medium frequency electrical furnaces. Both furnaces could meet the material requirements as long as the foundry could handle their operation. Comparatively, the electrical furnaces could keep the quality better and more stable.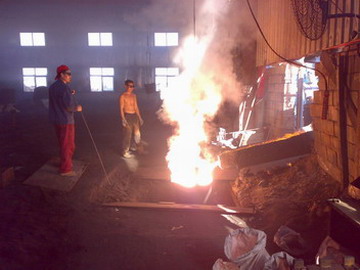 4. Sand Blasting and Grinding
After the iron castings taken out from sand molds, they will be put into sand blasting equipments to remove sands, then the workers will grind the gating heads, parting lines and sharp edges. Then, the rough castings will be completed.
If the castings need further machining and painting, then they will be taken to machining workshop or painting workshop.