The choice of pump material primarily depends upon the application, and the selection is very important to achieving long pump lifetime.
The material in the impeller is the most important factor because the impeller is heavily affected by wear and erosion-corrosion due to its high velocity relative to the liquid.
Frequently used pump materials
Material

Nickel

Chrome

Hardness
(hardened
state)

Hardness
(not hardened
state)

Relative
wear
resistance

Electrochemical
potential

pH
limitations

Chloride
limitations
(Without Zinc
anode protection)

Grey iron

0

0%

47 HRC

13 HRC

1.3 (3.3*)
*hardened

-0.55 to –0.65

5.5—14

<200 ppm

Stainless steel
316/329

4—11%

17—25%

—

10—20 HRC

2

0.1—0.3

0—14

<500 ppm

Hard-Iron

0

25%

60 HRC

37 HRC

10

-0.55 to –0.65

5—14

200—300 ppm
The most frequently used pump materials along with their respective wear-resistance and corrosion-resistance properties.
Grey Iron Pump Impellers:
Known for its excellent casting properties, grey iron can also be hardened and demonstrates good machining properties. Grey iron is the most common impeller material suitable for most municipal wastewater applications where no special requirements for corrosion protection or wear resistance exist.
Grey iron can be used with wastewater in the pH range of 5.5 to 14 on the condition that the chloride content does not exceed 200 mg/l. If the chloride content exceeds the maximum allowable values, then both the use of zinc anodes and a special epoxy coating is recommended.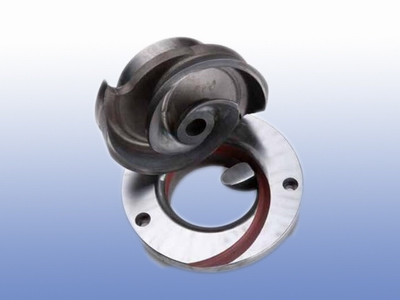 Hydraulic parts of a wastewater pump, pump impeller