The advantages of ductile iron manhole cover
Ductile iron manhole covers are made primarily by ductile iron, or called as nodular iron or sg iron. Whether the quality is good or bad depends on the nodularity. Rust-proof asphalt pain is commonly used in casting process; the surface of ductile iron manhole covers is treated by spraying asphalt anti-rust paint.

The features of ductile iron manhole cover:

1. High strength. The tensile strength of ductile iron is more than 420Mpa and the yield strength is more than 300MPa, which is same which is the same with low-carbon steel and three times more than gray iron.

2. Good toughness. Impact value is similar to carbon steel and 10 times than grey iron.

3. Good plasticity. Elongation of ductile is more than 7% which is similar with high-carbon steel, gray iron material and extend rate is zero.

4. Anti-corrosion resistance. The corrosion was only 0.25 times of pipes during ninety days spray corrosion test and 0.1 times of gray iron pipes. The life is 2 times longer than gray iron pipes and 5 times longer than ordinary steel pipe.

In most municipal applications, such as water, salt water, steam, the corrosion resistance and oxidation resistance of cast iron are more than steel. Because of the spherical graphite cast iron microstructure, ductile iron does better than steel in reduced vibration capacity.

The advantages of ductile iron manhole cover:

Low-cost is an important reason that cast iron is much more acceptable than steel, which makes ductile iron more popular. The casting is more efficient and the cost of ductile iron machining is less.

Ductile iron manhole covers have another advantage , ductile iron has high strength, toughness, which makes ductile iron manhole covers lighter than covers of the same type made by gray cast iron manhole cover about 30%.

Ductile iron manhole cover is one of the main products of Dandong Foundry, it is sure that ductile iron manhole covers will play an important role in the daily construction.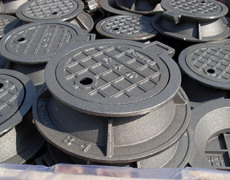 Cast Iron Round Manhole Cover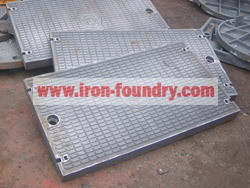 Ductile Iron Square Manhole Cover
Main Casting Products
Stove Burner
Cast Iron Plate
Manhole Cover Casting
Brake Drum
Warping Head Casting
Ductile Iron Belt Pulley
Cast Iron Flywheel
Boiler Ash Door
Cast Iron Stove Grate
Tractor Gearbox
Pump Body
Cast Iron Brackets
Cast Iron Weight
Gear Casting
Large Cast Steel Bracket
Cast Iron Drainage Pipe
Flange Castings
Cast Iron Pipe Fittings
Burner Grates for Gas Stove
Grey Iron Counter Weight
Cast Iron Axle Support
Cast Iron Blocks
Gas Burner
Cast Iron Truck Castings
Cast Iron Tractor Parts
Cast Iron Stove Parts
Pump Shell and Valve Body
Cast Iron Umbrella Base
Cast Iron Pan, Cookware
Boiler Soot Collector
Butterfly Valve Body