Why is rough casting weight important?
Rough casting or raw casting means the metal castings without machining, or before machining process. Rough casting weight is larger than machined casting weight, but why is this weight so important for the casting prices?

As we have said before, the iron foundries calculated the rough casting prices based on the rough weight of metal castings because the weight will directly affect the consumption of raw materials, manpower and electricity, so this weight will directly affect the main production costs.

Therefore, during quotation, the iron casting suppliers and buyers should notice this issue, and assure the machined weight and rough casting weight.

Normally, as for the castings with small machining works, there will be 5% to 10% machining allowance, but for the castings with a lot of machining process, there will be 10% to 30% machining allowance, so there will be 5% to 30% price difference based on the different weights.

Iron foundries could calculate the machined and rough weights for the simple castings, but it is difficult to calculate the complex castings, moreover, the calculation always has some difference with the real weights since the material density has some variation. So, if iron casting buyers have the weights, then it will become easier, otherwise, the final weights can be assured during samples approval.

Some buyers thought the rough weight is the problem of iron foundries, not theirs. This is not correct. The iron foundries have to take the rough weights as the base of prices, which is strict to the production process. So, if they took the machined weights as the rough weights, then their prices will be much more lower than their production costs, then they will lose money, so they will arise this issue before the formal production. At that time, this problem will affect the successful cooperation.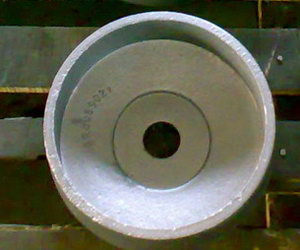 Rough Casting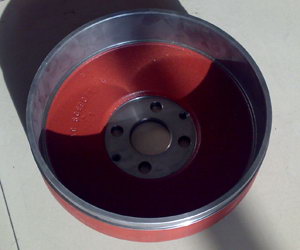 Machined Casting
Main Casting Products
Stove Burner
Cast Iron Plate
Manhole Cover Casting
Brake Drum
Warping Head Casting
Ductile Iron Belt Pulley
Cast Iron Flywheel
Boiler Ash Door
Cast Iron Stove Grate
Tractor Gearbox
Pump Body
Cast Iron Brackets
Cast Iron Weight
Gear Casting
Large Cast Steel Bracket
Cast Iron Drainage Pipe
Flange Castings
Cast Iron Pipe Fittings
Burner Grates for Gas Stove
Grey Iron Counter Weight
Cast Iron Axle Support
Cast Iron Blocks
Gas Burner
Cast Iron Truck Castings
Cast Iron Tractor Parts
Cast Iron Stove Parts
Pump Shell and Valve Body
Cast Iron Umbrella Base
Cast Iron Pan, Cookware
Boiler Soot Collector
Butterfly Valve Body