Our foundry's gray cast iron, ductile iron and cast steel price calculator has been updated for sea freight cost to some seaports in USA, UK, Germany and Australia.
Our foundry has made two types of metal casting price calculators. We hope these tools could help buyers to estimate and evaluate their casting prices quickly and easily.
1. Simple Price Calculation
This price chart is made for inexperienced buyers. We have made the price list by USD/kg, USD/ton and USD/lb. Therefore, if you know the unit weight and casting material, then you could get the unit price easily.
This simple price calculation can be used on gray cast iron, ductile iron and carbon steel.
Want to use them, please click "Cast Iron Price per lb or kg" or "Cast Steel Price per lb or kg".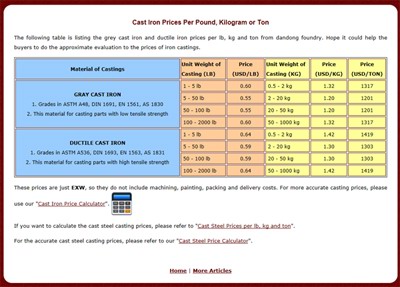 2. Accurate Price Calculation
If you want to make the price more accurate, or want to know its casting price, machining price, packing, painting and sea freight prices, then you could use our "Cast Iron Price Calculator" and "Cast Steel Price Calculator".
After you fill or choose the proper options, then you could get the approximate casting prices, FOB Price China, or CIF Price to your local seaport.
You can also get the cost breakdown for rough casting, machining, painting, packing and sea freight costs.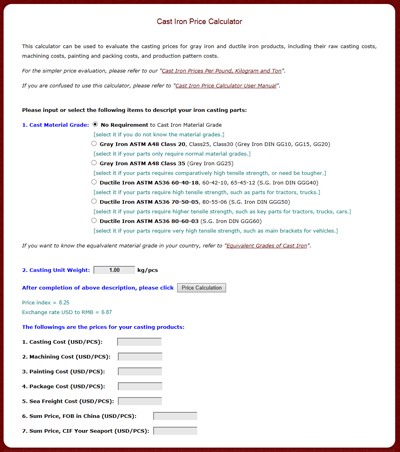 Please feel free to contact our Dandong Foundry if you meet any problem when you use these price tools.
Enjoy your good experience!