Cast Steel Price Calculator
Some buyers want to get the price quotation instantly, or just want to make a price evaluation or estimation to their steel castings. This calculator is made by our Dandong Foundry in China. It can be used to calculate the casting prices for carbon steel and alloy steel, including their raw casting costs, machining costs, painting and packing costs, so EXW prices.
For the simpler price evaluation, please refer to our "Cast Steel Prices Per Pound, Kilogram and Ton".
For the accurate cast iron casting prices, please refer to our "Cast Iron Price Calculator".
If you are confused to use this calculator, please refer to "Cast Steel Price Calculator User Manual".
Just need to input or select the following items, to descript the steel casting parts:
1. Material Grade: Cr: Mo: Ni: Cu:
[If the material is carbon steel, such as mild steel, medium-carbon steel or high-carbon steel, just leave the above as blank.]
[If the material is alloy steel or stainless steel, please input chemical composition. No need to input C, Si, Mn, S, P.]
2. Casting Weight (kg/piece): [Please input the unit weight of casting part, and select what weight it is.]
This is the Raw Casting Weight before Machining
This is the Finish Weight after Machining Process
[The unit weight denotation on the drawings of rough castings will be "Raw Casting Weight."]
[The unit weight denotation on the machining drawings will be "Finished Part Weight."]
3. Complexity of Castings: Very Simple [simple shapes, no inside cavity]



Normal [normal shape, simple inside structures]



Complex [complex outer shapes and inside structures]




Very Complex [very complex casting parts, or special shapes]


4. Selection of Casting Process:
[If you have known the suitable casting process, please select the following options.]
[Please be careful! The different casting processes will affect the casting prices very largely.]
No Requirement to Production Process
Sand Casting Process - low requirements to the surface quality and defects.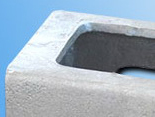 Water Glass Lost Wax Investment Casting - good surface quality and less defects.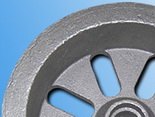 Silica Sol Lost Wax Investment Casting - the best surface quality and almost no defects.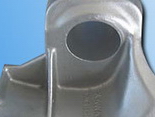 5. Machining Description: No Machining, or Only Need Raw Castings




Simple Machining, or Only Need Rough Machining



Normal Machining, but no need CNC centers




Complex Machining, or Need High Precision Machining




Very Complex Machining, or lots of machining works



[Please choose the machining level by your judgment, this is for estimation of machining costs.]
6. Surface Painting and Coating: No Need Painting or only use common anti-rust oil
Primer Painting for Anti-Rust during sea delivery
Finish Painting, Gloss or Matte
Powder Coating
Electro Galvanizing, Cold Zinc Plating
Hot Dip Galvanizing (HDG)
Heat Resistance Paint
Electrophoretic Coating
7. Packing and Delivery to Local Seaport: No Need Packing or Delivery
Need Fumigation-Free Packing, but No Need Delivery
Need Fumigation-Free Packing, and Delivery to Local Seaport in China
After completion of above description, please click
Price index RG = Price index FG =
Exchange rate USD to RMB =
The followings are the prices for your casting products:
1. Casting Price (USD/PCS):
2. Machining Price (USD/PCS):
3. Paint & Coating Price (USD/PCS):
4. Packing Delivery Price (USD/PCS):
5. Total Price FOB China (USD/PCS):
The price results are only based on our experience and normal circumstances, it could be a reference for your price evaluation, but can not be taken as our official quotation. The accurate prices should be quoted after checking the detailed requirements and drawings.
We are improving this calculator to calculate the casting prices more accurate, and enable calculation for other costs, such as painting, packing and pattern costs. If you have good advice or any question, please feel free to contact us. Thank you!
For the pattern cost, mould cost or tooling cost, please refer to our "Pattern Cost for Cast Iron Castings, Cast Steel Castings".