Dandong Foundry is analyzing the cast iron price trend 2017 in China. We think the gray cast iron and ductile iron casting prices will be kept unstable and rising.
Firstly, please look at the cast iron price rate line chart from 2008 to 2017.
These price rates are the normal raw casting prices without machining and packing. They are not the lowest prices, and not the highest prices either. You can take it as the average price.
In the past 9 years, gray cast iron price rate has changed from 1.38 USD/kg to the lowest 1.08 USD/kg in the early of 2016. Then, increased to the current 1.28 USD/kg.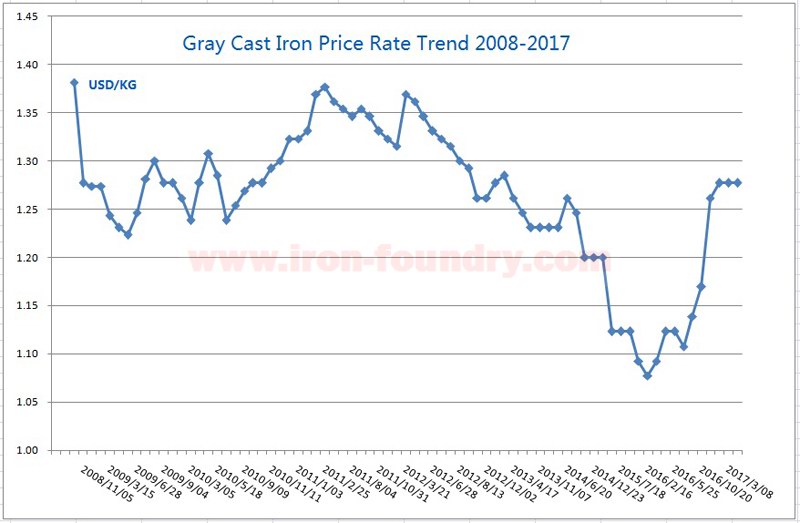 In the past 9 years, ductile iron price rate has changed from 1.51 USD/kg to the lowest 1.18 USD/kg in 2016, then increased to the current 1.38 USD/kg.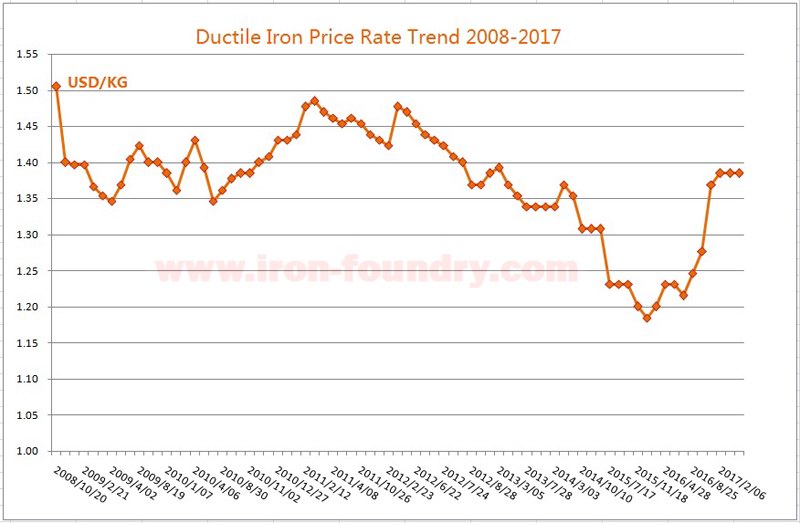 According to the above line chart, we can see that the lowest price phase from 2015 to 2016 is a very special period. Because of the global economy recession and low pig iron market price, there was 1.08 USD/kg happened, however, according to the line chart, we do not think this low price rate could show up again.
By the chart analysis in the past nine years, we think gray cast iron casting price rate could be kept in 1.20 to 1.35 USD/kg. The ductile iron casting price rate could be kept in 1.30 to 1.45 USD/kg.

Secondly, let us think about the main aspects affecting the cast iron prices in 2017.
1. Manpower cost
In China, the workers salary is increasing year by year, we believe that this trend has relationship with the fast development of the whole China. Moreover, Chinese government is requiring the factories to pay for the social insurance to all workers. All these have increased lots of manpower costs to all foundries, especially to the large foundries.
2. Pig iron and material prices
The pig iron and other foundry materials have stable prices now, however, we think this stable status will not be kept long, the pig iron prices could be increased soon in 2017. It is possible to increase 30% more.
3. Market demand and foundry production capability
Market demand is not very good now, but some markets are recovering, so the global market demand should be good in 2017. Currently, Chinese foundries' production capability could meet the market demand for now, so this aspect should not be a problem now.
4. Exchange rate of USD to RMB
The exchange rate of USD to RMB has increased from 6.2 in 2014, to 6.3 in 2015, to 6.6 in 2016, till 6.8 in 2017. So, this is good for the exporting business of our dandong foundry, however, we can not tell which way the exchange rate will go to in the future.
After considering all aspects above, we think the cast iron prices should be able to increase some in 2017, may not increase much, but will increase some. The price may rise slowly in 2017 and 2018.