Our Dandong Foundry can produce aluminum manifolds by sand casting process. This could reduce the price of aluminum manifolds and also reduce lots of tooling cost compared with the die casting process.
The machining residual debris inside the cast aluminum manifold must be cleaned, otherwise it will damage the engine. Therefore, our Dandong Foundry uses a special sandblasting machine to completely spray the inside of the cast aluminum manifolds.
Welding repair is not allowed on any part of the cast aluminum manifolds. Through hole defects and casting internal collapse defects will affect the strength, so the aluminum manifolds must be scrapped if they have such defects.
In order to inspect whether the inner wall of the cast aluminum manifold has extra material which is easy to fall off, the inspectors of our foundry use endoscopes for batch inspection.

Aluminum Manifold Inner Wall Inspection by Endoscopes
The threaded hole machining position of the aluminum manifolds can not be offset, and the wall thickness should be uniform.
Our Dandong Foundry can also provide accessories for the cast aluminum manifolds, such as RV wires, copper flat pads, stainless steel joints, copper plugs, bolts, etc.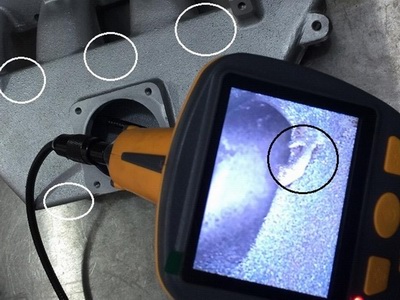 Inspection to the inside of aluminum manifolds